artist's statement
Encaustic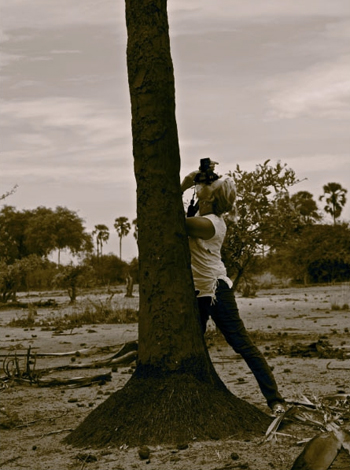 Shooting in Zambia
Moving beyond literal representations, I create textured paintings on a customized and oversized heated plate to blend abstracted imagery of the real world. The place, the feeling, or experience that I am portraying is a snap shot of my present mindfulness. The size of the work comes from the same inspirational process. I hope the resulting images challenge the viewer to look again at what passes in front of them, transcending the surface to reach their meaning. That's what excites me. It keeps me in the moment to further my understanding of visceral communication. From beach scenes and mountain vistas, to urban scenes that reflect back to me. I offer these calming, reassuring works as symbols of hope in our ever-changing world.
Photography and Mixed Media
As a photographer with a love of painting, I found a natural evolution by realizing a hybrid of these two interests. The process can start with mounting photographs on birch panel. On this work I cover the images with layers of encaustic wax and paint using pigmented oil sticks and inks. I created The "Shot from the Highline" series when I lived next to the now iconic NYC highline walkway. I found a contradictory balance between the plantings and the cityscapes to create these storyboards. I did a similar series with the Watertower Series which was shot in New York City in 1999. Both the Highline and SoHo's water towers are historically important and architecturally beautiful features of the New York skyline.
Subsequently my focus was on an African photographic series called "One Tribe". The rich texture of the encaustic wax allows me to capture the beauty of the land where man was born. Today, I enjoy shooting florals with my macro lens creating almost abstract portraits of flowers. I get taken away in a meditative way when shooting this way. Usually still shooting them with my film camera to get what I'm looking for.
- Beth O'Donnell, East Hampton NY