biography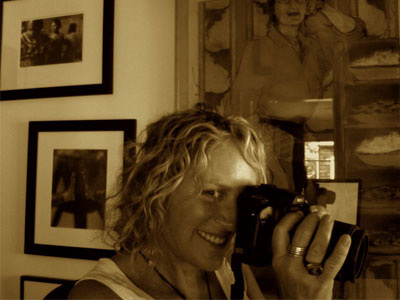 Beth began combining photography with encaustic wax at a joint workshop offered by the Center of Photography at Woodstock and R&F Paints in Kingston NY, in 2005.Her most recent mixed media art is inspired by the natural light and landscapes nearby her studio on the East End of Long Island. Using encaustic wax and pigmented oil sticks to add texture mounted on an array of papers and panels, O' Donnell captures ethereal geometric forms and abstract landscapes.
Prior, Beth O'Donnell studied photography at the Evanston Art Center in Evanston, Illinois and The International Center for Photography in New York City. Her photojournalistic work in Africa, for which she spent months in 2000 working in the slums of Nairobi, Kenya, was published in The London Daily Telegraph and Marie Claire magazines. She has also been published in The Financial Times and has appeared twice as a guest on Oprah Winfrey's Oxygen Network, for "Angels in the Slums" and "AIDS and Orphans." O'Donnell exhibited work at the United Nations in conjunction with the Istanbul +5 Conference and her photographs have been auctioned at several major philanthropic events around the United States.
O'Donnell's book, Angels in Africa, was published by the Vendome Press in 2006. Seven years in the making, this important book introduces us to seven visionary women hailing from 7 different countries, who each have taken powerful action to rectify the devastating societal conditions in Africa. It is heartbreaking, yet colorful and uplifting. Angels in Africa was named by the Guardian (UK) as one of the top ten photography books of 2006. President Bill Clinton also commended Beth's Angels in Africa Rwanda chapter in his book Giving.
Earlier accomplishments include co-founding Miraval - Life in Balance Resort and Spa - Tucson, Arizona in 1995 - a decade after co-founding Sierra Tucson Addictions Facility. Ask Beth what her most rewarding achievement is, she will undoubtedly say parenting her three sons, Billy, Ryan, and Christian. She is the proud grandmother of six, and spends as much time as possible with her family and friends all over the world.
---
---
O'Donnell's past and present Board affiliations include:
African Rainforest Conservancy